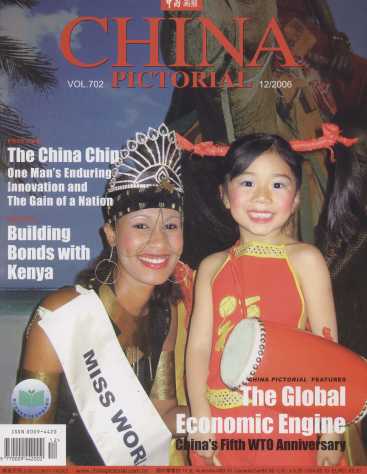 Directory Of Year 2006, Issue 12
Sino-Foreign Interact
Year:

2006

Issue

:12
Column:

ECONOMY
Author:
Release Date:

2006-12-01
Page:

6,7
Full Text: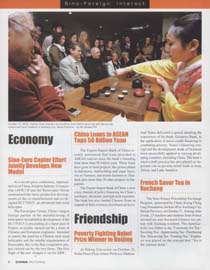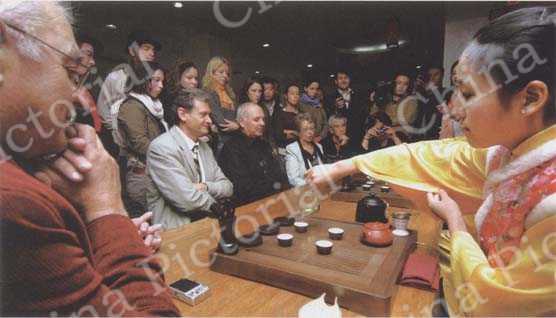 October 27, 2006: Twenty-three teachers and students from France savor tea and discuss tea culture with local residents in Xuchang City, Henan Province. by Niu Shupei/CFP
Economy
Sino-Euro Copter Effort Jointly Develops New Model
At a recent press conference, representatives of China Aviation Industry Cooperation (AVIC) II and the Eurocopter Group summarized the latest production developments of the co-manufactured and co-designed EC175/Z15, an advanced mid-sized helicopter.
The Eurocopter Group, China's largest foreign partner in the manufacturing of helicopters, revealed that development of the EC175/Z15 is proceeding at a rapid pace in France, as jointly carried out by a team of Chinese and European engineers. Intended to satisfy the need for a Chinese mid-sized helicopter and the similar requirements of Eurocopter, this is the first cooperative project carried out by the two firms. The first flight of the new chopper is set for 2009.
China Loans to ASEAN Tops 50 Billion Yuan
The Export-Import Bank of China recently announced that loans provided to ASEAN nations since the bank's founding total more than 50 billion yuan. These loans have gone to fund projects like power plants in Indonesia, shipbuilding and sugar factories in Vietnam, and textile factories in Thailand, plus more than 30 other projects in Singapore.
The Export-Import Bank of China is now a key channel of policy financing for China's mechanic, electronic and high-tech exporters. The bank has also funded Chinese firms in support of their overseas investment projects.
Friendship
Poverty Fighting Nobel Prize Winner in Beijing
At Peking University on October 22, Nobel Peace Prize winner Professor Muhammad Yunus delivered a speech detailing the experience of his bank, Grameen Bank, in the application of micro-credit financing in combating poverty. Yunus's financing concept and the development mode of Grameen were successfully applied in varying developing countries, including China. The bank's micro-credit practice has also played an important role in poverty-relief work in Asia, Africa, and Latin America.
French Savor Tea in Xuchang
The Sino-France Friendship Exchange Program, sponsored by China Soong Ching Ling Foundation, kicked off in Xuchang City, Henan Province, on October 27. Among other events, 23 teachers and students from France savored tea and discussed Chinese tea culture with Xuchang residents. The shared activity was billed as the "Ceremony for Tea-Savoring Tea-Appreciating Tea-Purchasing Tea-Discussing Tea-Toasting Tea." Emphasis was placed on the concept that "Tea is the national drink."
Culture
A Night of Africa
During "A Night of Africa," October 25, 2006, performance troupes from five African nations debuted in Beijing. Egypt's Nile Song and Dance Assemble and a South African troupe delivered to their Beijing audiences a colorful performance full of African flavor. Accompanied by musicians and the unique sound of their ancient traditional Egyptian instruments, the Nile Song and Dance Assemble in particular brought to Beijing the splendid form of African folk music, song and dance. The South African troupe performed a living theatre billed as The Beauty of Art, displaying their unique local multi-cultural music and dance.
China Tibetan Culture Week in Austria
During the 2006 China Tibetan Culture Week, on October 24 the Tibetan musical drama "Wunderbar Home" was staged in Mozart's hometown, Salzburg, Austria. This is the third Austria visit for the song and dancedriven drama, following prior tours to Linz and Vienna, respectively. Since its start on October 18, the 2006 China Tibetan Culture Week has presented more than 20 exchange performances to Austrian audiences.
First staged in Australia in 2001, to date the China Tibetan Culture Week has taken place in Hong Kong and beyond China's borders, in nations such as New Zealand, Canada, Belgium, Thailand, Denmark and Italy.
Intel and Ministry of Education Cooperate
On November 1, Craig Barrett, CEO of Intel, and Wu Qidi, vice minister of the Ministry of Education, PRC, jointly launched the "Better Our Future Educational Program" to promote education in China. Intel announced that it would support the training of one million Chinese elementary school teachers, fund 100 joint projects in China's institutes of higher learning, and establish labs for 100 institutes of higher learning.
Inception of the program is the product of a strategic cooperation between Intel and the Ministry of Education over the past three years, and is emblematic of a deepened cooperation between the two in the field of education.
Science and Technology
China-UK Anti-HIV/AIDS Program Realizes Goals
After six years targeting a population of 129,000 people in 83 counties and districts within 37 cities and prefectures in Sichuan and Yunnan Provinces, directors recently announced the completion of China-UK HIV/ AIDS Prevention and Care Project.
Commenced in June 2000, the project was conceived to focus on the high-risk regions of Yunnan and Sichuan. General goals included the development of replicable models of HIV/AIDS prevention, treatment and care for high risk and vulnerable groups, while developing informed national policies and practices. Partially supported by technology and funds provided by the British government, the project is considered by China and UK experts to have achieved its anticipated aims.
It was also announced that the next phase of the China-UK project would soon be launched. Supported by 300 million pounds provided by the UK, the project will expand its reach to seven provinces.