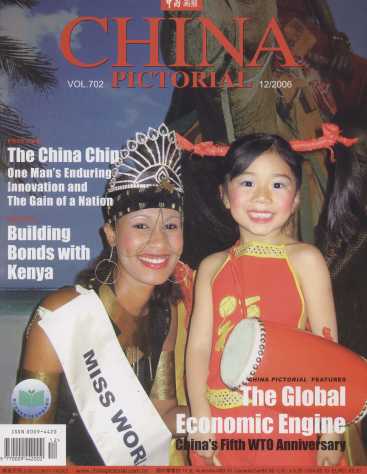 Directory Of Year 2006, Issue 12
The Global Economic Engine
Year:

2006

Issue

:12
Column:

CHINA PICTORIAL FEATURES
Author:

Zhang Rong
Release Date:

2006-12-01
Page:

8-19
Full Text: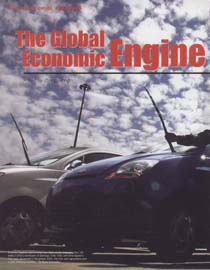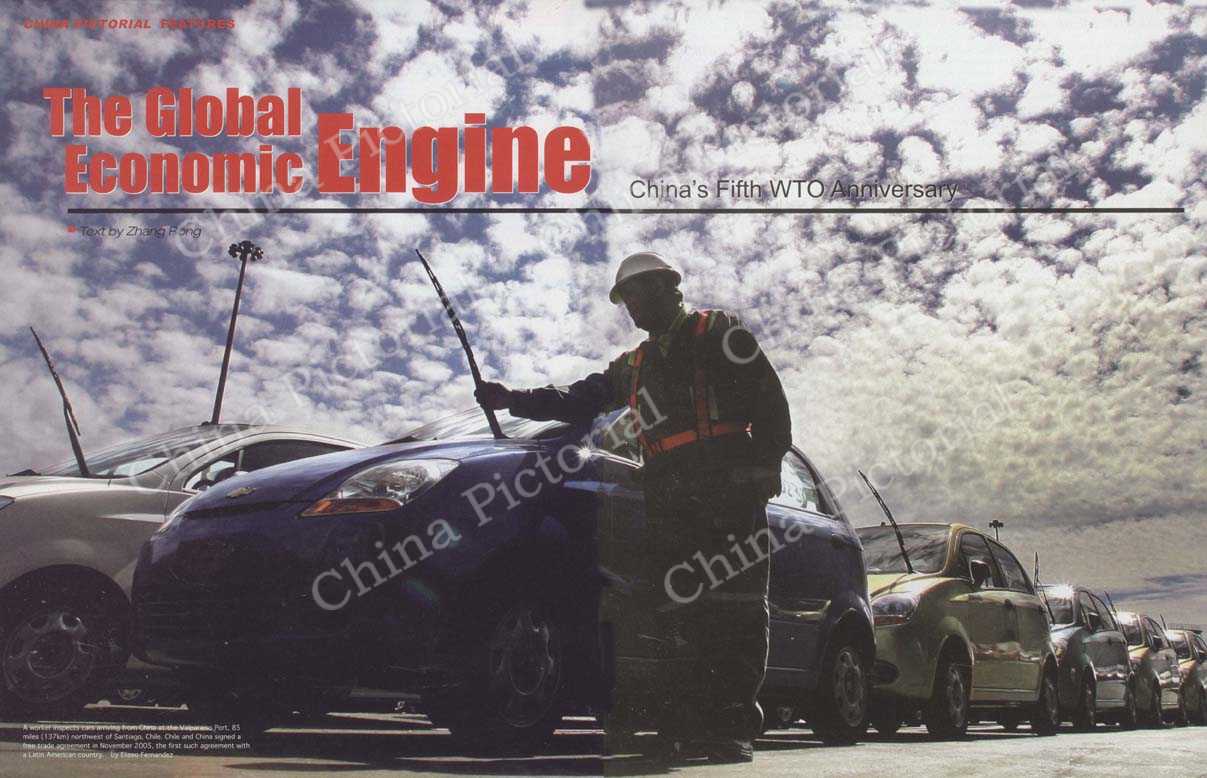 At the "Retrospect and Prospect: China's Fifth WTO Anniversary" International Symposium held last September, Director General of the World Trade Organization (WTO) Pascal Lamy rated with an "A+" China's overall performance over the five years since the nation entered the WTO.
Lamy said that China's WTO partnership reinforced international multilateral trading systems, and that in terms of fulfilling WTO commitments China set a strong example for other nations. .
December 11, 2006, marks the fifth anniversary of China's entry to the WTO. In the years since joining, the nation has become not only a beneficiary, but also a driver of the multilateral trading system. The Chinese government's strategic decision in entering the WTO promoted domestic reform and economic development, while concurrently providing a broad market for the rest of the world and promoting the expanding global economy.
Promoting Opening-Up and Reform
China's WTO entry has actively promoted the nation's opening-up, accelerated the transition of government functions, and helped eliminate mechanical abuses.
Firstly, the further reduction of tariff and non-tariff barriers boosted the opening scale of the Chinese market. And as the market opens wider, China's import volume has expanded rapidly. In the last five years, China imported cargo from around the world valued at nearly $2.4 trillion, realizing an annual growth rate of 28 percent.
Secondly, in line with its WTO commitments, China revised laws and optimized its legal system, greatly improving the social and investment environment. In the last five years, more than 2,000 laws and regulations were revised, and more than 800 restrictive regulations were abolished. Of those, efforts made in the field of intellectual property rights have enabled the Chinese legal system respective IPR to reach and exceed the standards instituted by WTO's protection agreements on trade-related IPR issues.
Driving Foreign Trade and Growth
By seizing opportunities offered by the transfer of global manufacturing in the 1990s, China became a major beneficiary. After its entry to the WTO, the improvement in the environment of international trade delivered a wealth of business opportunities, while attracting an increasing amount of foreign investment. Within the short period from 2001 to 2005, China's foreign trade volume in cargo expanded from $509.6 billion to $1.4221 trillion, its global ranking rising from the sixth to the third; and its trade volume in service jumped from $71.9 billion to $ 166.5 billion, its global ranking from the eleventh to the seventh. In the first eight months of this year, China's foreign trade volume in cargo increased by 23.9 percent over the same period of last year, with a 25.9 percent in export and a 21.6 percent in import.
The rapid expansion in foreign trade has also pushed forward the development of China's national economy. The nation's GDP rose from 10.9655 trillion yuan ($ 1.3248 trillion) in 2001 to 18.3085 trillion yuan ($2,235 trillion) in 2005, running at an annual increase rate of 9.5 percent. In 2005, China became the fourth largest economy in the world, and its per capita GDP reached $1,702.
Integrating into the Global Economy
Since China's entry to the WTO, Chinese commodities quality has fundamentally met standards based on international criteria, and the service industry as a whole has worked to follow international practices. As the micro-foundation of the national economy, operationally Chinese enterprises have increasingly moved closer to the international track.
Of particular note, since its WTO entry China has opened its field of service trade at an unprecedented scale. Of the 160-plus service trade sectors classified in accordance with WTO rules, 104 opened in China-a level close to the average (108) of developed nations. In many other important sectors, including finance, China has strictly fulfilled its partnership commitments and offered a wealth of market access opportunities. Overseas banks, securities firms, and insurance institutions have flooded into China, conducting financial business through various modes like joint ventures, sole investment, and equity participation.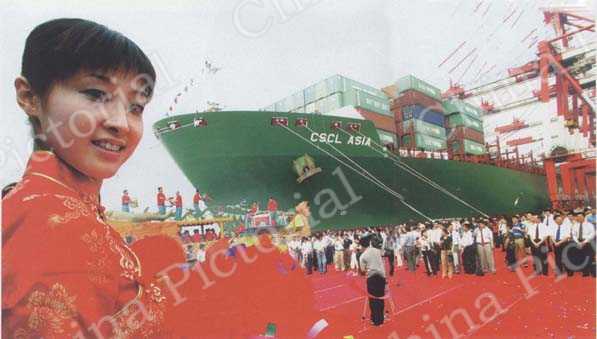 A ceremony participant waits for a ship to launch in Shanghai on July 9, 2004. This liner, capable of carrying 8,500 TEU containers, believed to be the largest of its kind in the world, embarked on its maiden voyage from China's financial hub to North America.
Consider the sector of commercial circulation. By the end of 2005 a total of 1,341 foreign-funded commercial enterprises, along with 5,657 retail outlets, had been established, and more than one-fourth of chain supermarkets in China were foreign-funded.
At a meeting with WTO Director General Pascal Lamy, Chinese Premier Wen Jiabao said that since China joined the WTO in December 2001, the nation had been honoring its commitments to the WTO and adjusting its foreign trade policies in line with the WTO rules.
"Over the past five years, China has lowered its average tariff by a large margin and widely opened up the service trade to foreign countries," said Wen. "China's entry to the WTO not only brings benefits to the nation itself, but also contributes to the development of world trade and the global economy." As the transition period following China's entry to the WTO comes to an end, in the face of new challenges, China will firmly adhere to opening up, seeking further development as well as mutual benefits and a win-win situation with the rest of the world.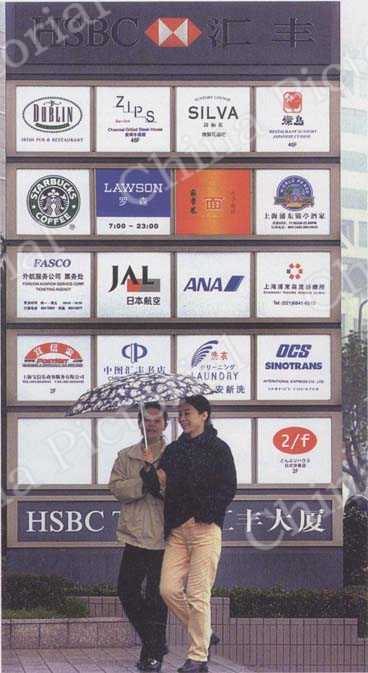 Two young women walk past company listings outside of HSBC (Hong Kong Shanghai Banking Corp) tower in Shanghai. Some 42 foreign companies have already established their regional or global research and development centers in this city. by Liu Jin
Three Changes in Foreign Trade
Xu Dezhi, a 67-year-old retiree, was recently presented with a dilemma: The newly-founded Guangdong Chamber of Commerce for Import and Export (GCCIE) invited him to preside over its work, while his children hoped that he could stay at home to enjoy a carefree life in his later years. With dozens of years experience in the field of foreign trade, Xu could not resist and decided to accept the GCCIE's invitation.
"Great changes have taken place in today's situation of foreign trade," he said. "As a senior worker in this field, I could not pass up this opportunity."
At present, enterprises authorized to engage in import and export business in Guangdong Province amount to nearly 45,000, compared to only about 10 before the introduction of reform and openirig-up policies, of which more than 10,000 enterprises are new to the field. "Under the even more complex circumstance of the international trade after China's WTO entry, younger private enterprises require high-credit and a reliable organization to provide support for their import and export business, while safeguarding their interests and rights," says Xu.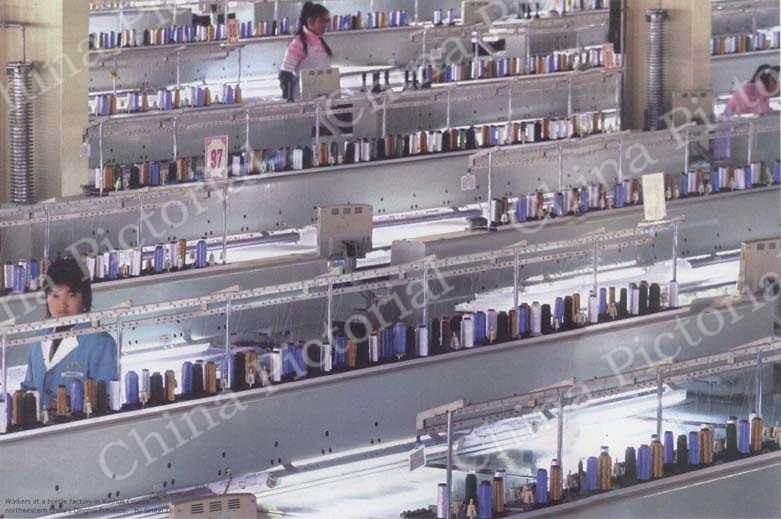 The most remarkable change in China after China's entry to the WTO was the soaring rates of foreign trade volume, which increased from a mere $500 billion in 2001 to $1.4 trillion in 2005. The figure is expected to top $1.5 trillion this year, about three times that of the year China joined the WTO. Chai Haitao, head of the Research Institute for Foreign Trade and Economic Cooperation under the Ministry of Commerce, summarized up three significant developments in China's foreign trade.
Change in Product Composition
In the 1980s, China's foreign trade mainly focused on light-industry products and textiles. In the 1990s, trade mostly depended on the support of electrical and mechanical products. At present, the export volume of electrical and mechanical products has accounted for 55 percent of the nation's total. After China's entry to the WTO, its foreign trade product composition has seen a further change. The import and export of hi-tech products, characterized by IT products, expanded at a rapid pace, and hi-tech export volume accounted for 30 percent of the nation's total.
Change in Trade Form
In recent years, the proportion of China's processing trade has risen to 55 percent of the nation's total export volume, and the large majority of the processing trade was achieved by foreign-funded enterprises. It was the country's low cost and favorable infrastructures that attracted overseas corporations to shift the processing links of their manufacturing chains to China. Recent statistics revealed by the Industry Department of the Ministry of Commerce show that laptops and mobile phones remain the two leading products among China's export commodities.
Change in Trading Body
State-owned import and export companies are no longer the only players in China's foreign trade. Presently, less than one-fifth of exports and about one-fourth of the nation's total import trade are conducted by state-owned corporations, while more than 58 percent of the foreign trade volume are achieved by foreign-funded enterprises. According to the list of the 2005 China Top 200 in Foreign Trade, 70 percent of the firms were foreign-funded enterprises, and the proportion of private enterprises rose to 21 percent, exceeding that of state-owned enterprises.
According to Zhang Lichuan, head of the Statistics Division of the General Administration of Customs, after China's entry to the WTO, foreign-funded and private enterprises, compared to state-owned and collective enterprises, have shown a stronger capability of adaptation and more vigorous dynamics of growth. In 2005, the import and export volume of foreign-funded enterprises amounted to 58.5 percent of the nation's total, up by 7.7 percentage points over 2001, and that of private enterprises reached $167.4 billion, up by 18.2 times over 2001, accounting to 11.8 percent of the nation's total, compared to only 1.7 percent in 2001.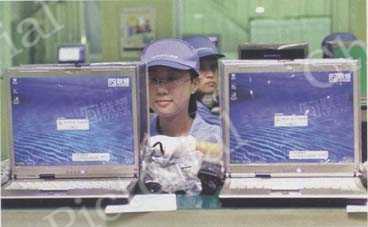 Workers inspect Lenovo laptop computers on the production line at the company's Shanghai factory. IC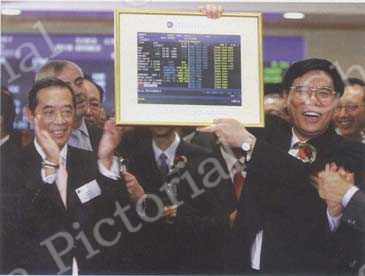 Chairman of the Industrial and Commercial Bank of China (ICBC) Jiang Jianqing (right) holds a photo of the opening share price of ICBC, presented by Hong Kong Exchange Chairman Ronald Arculli (left), during a ceremony marking ICBC's trading debut at the Hong Kong Stock Exchange on October 27, 2006. by Paul Yeung
Fiscally Fit
Home-Based and Foreign Banks Prepare for Sino Expansion
In the office of Mike Yeung, head of Personal Financial Services for HSBC China (Hong Kong Shanghai Banking Corporation), there hangs a map of China. Illustrated on the map in vivid color is HSBC's strategy for handling personal financial services across the country.
"I show the map to nearly all the journalists who come here for an interview," Yeung says. "It clearly illustrates HSBC China's overall plan for the provision of personal financial service in the country. Beijing, Shanghai, Guangzhou and Shenzhen, highlighted in red, are currently our most important Chinese markets. These cities already have established branches and centers for providing HSBC Premier services, and we are going to open more branches, sub-branches and Premier centers next year."
Yeung explains that Xiamen, Qingdao, Dalian, Tianjin and a few other cities that are marked in yellow are important targets for market development in 2006. According to the plan, by the end of 2006, HSBC will establish Premier centers in those cities. "By the end of 2006, when the Renminbi business is completely open to foreign banks, our scope of business will be greatly enlarged." December 2006 will be a groundbreaking month for China's banking industry. In accordance with conditions laid down during China's WTO entry, the country's financial market will be open to foreign banks from this point forward. The lifting of all restrictions will allow overseas financial institutions to provide an all-round service to Chinese nationals.
Overseas Entry Drives Change
Eleven years have passed since the Asian Development Bank became the first foreign shareholder of a Chinese bank by buying into China Everbright. Since then foreign investors have become increasingly important strategic investors, involved in the operation and management of banks at a local level, and their participation is changing the environ- ment of China's banking industry.
By the end of October 2005, in line with conditions laid down for China's WTO entry, 238 representative offices of 173 banks from 40 countries had been established in 23 cities across China. The general assets of foreign banks in China had reached $84.5 billion; accounting for some 2 percent of the country's overall total. Areas for cooperation had moved out from the highly attractive credit card business to insurance, financial services, private banking and business funding.
Competition Spurs Banking Development
On October 27, 2006, the capital market in Hong Kong and Chinese mainland saw the listing of the Industrial and Commercial Bank of China, following state-owned Construction Bank of China and Bank of China. Representing the largest financing source in the world in 2006, the move drew attention worldwide. Perhaps more importantly, the listing of A and H shares of the largest commercial bank in China on the market represents a profound development in the banking industry in China.
Over the past five years, China's domestic commercial banks have been actively engaged in attracting foreign capital, employing the expertise, experience, technology and technical know-how of foreign counterparts to enhance their own risk control and capital-generating capability. In the face of stiff foreign competition, banking operations, shareholding systems and corporate governance have all been radically overhauled, and major reforms were carried out in the area of agricultural banking. In the face of foreign pressure, domestic commercial banks still have significant opportunities for growth. They retain the advantages of extensive banking networks, strong capital support, nationwide local customer bases and a profound understanding of local markets. These advantages will ensure that local banks still have the upper hand when foreign banks enter the domestic market in force.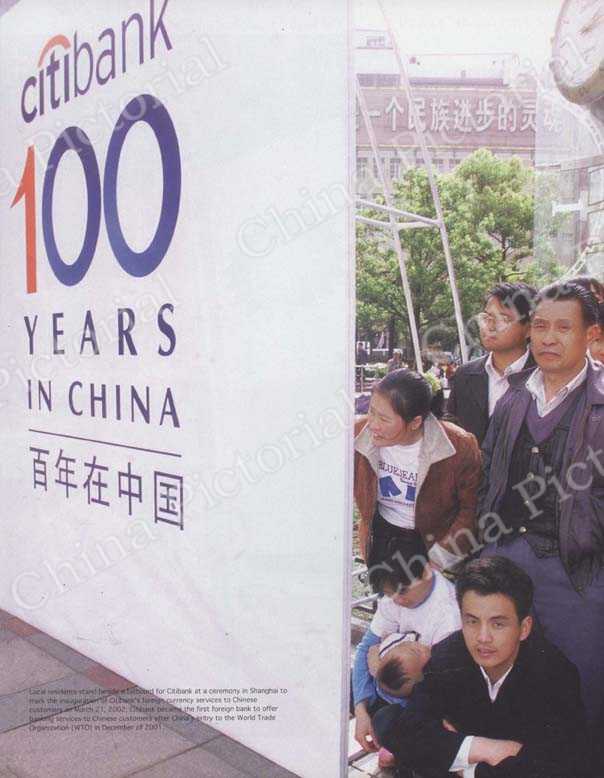 Gas Station Competition
Back in the days before electric lighting, in a clever marketing ploy, Mobil sent nearly all the families of Shanghai a free fully-fueled kerosene lamp. The lamps were a significant improvement over candles, and when their lamps ran out of fuel, local people began queuing to purchase more kerosene. In the 1930s kerosene lamps in China thus became known as "Mobil lamps."
That was another era, but Mobil is still well remembered for its ingenious method of penetrating the Chinese market. Today, Mobil gasoline stations can be seen in many Chinese cities, and Mobil products have become part of everyday Chinese life.
In line with China's WTO entry, the Chinese retail market for finished gasoline products opened to foreign companies on December 11, 2004. In the very beginning, BP, Exxon Mobil, Shell and other international companies operated in China in the form of partnerships. "We want Chinese consumers to know that Shell has arrived and started to offer services," says a Shell spokesman. "Though we don't have many gasoline stations right now, the point is that we have arrived."
BP is the foreign company with the most gasoline stations in China. The company already had a substantial share in the finished gasoline terminal retail market in China two years ago. Gary Dirks, BP regional president in China said that the joint company of BP and PetroChina would change the present operational model for gasoline stations in China. Notably, BP and PetroChina plan to tap the market for convenience stores in gasoline stations, and will provide many more added services. BP has been working actively to change the gasoline station concept, offering gasoline product services, convenience store services and more.
Concurrently, CNPC (China National Petroleum Corporation) and Sinopec (China Petroleum & Chemical Corporation), two traditional forces in this market, have also begun following European and American operational models. More non-gasoline services were offered in their gasoline stations. In addition to sponsoring Formula One and jointly introducing auto-restaurants with McDonald's, they have also started work on sales channels and outlet establishments.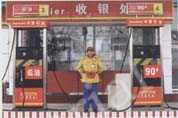 March 17, 2006: A Chinese attendant serves customers at a PetroChina petrol station in Beijing. by Claro Cortes IV
Cooperating with financial institutions, CNPC brought pay-by-card system to more than 8,000 gas stations throughout China. In addition, CNPC and the Industrial and Commercial Bank of China jointly issued Peony -BP and PetroChina, the first credit card that can be swiped in Chinese gasoline stations. The card has all the functions of a Peony card, and when cardholders add gasoline for their vehicles and swipe the card at any of 17,000 CNPC gas stations throughout the country, they receive a cash discount or discount in other forms.
Sinopec doesn't lag behind. It offers a value added service, known as "Thanks Amidst Oil." As the first customer loyalty cultivation plan of the company, it provides one point award for every liter of gasoline purchased at its gasoline stations through swiping cards. Different points may be exchanged for varying gifts. The special promotion helped increase the number of card users to 8 million in more than 13,000 Sinopec gasoline stations throughout the country.
In an already dynamic market, industrial experts believe that the pace of change may appreciably accelerate by the end of 2006. There are a total of 90,000 gasoline stations nationwide. Among these, CNPC accounts for 17,000, Sinopec 30,000, and the balance belongs to the private sector. Once the multinational giants win rights to wholesale, import and export of finished oil products in China, their low-cost finished oil products together with their highly effective logistics system will produce a positive trend for non-state-owned gasoline stations. The number of foreign brand gasoline stations is expected to increase largely due to the joining of the non-state-owned gasoline stations.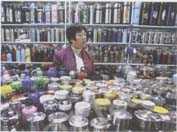 October 1 9, 2006: A storekeeper awaits customers at a retail market in Beijing. by Claro Cortes IV
Retail Strong for International Players
"IKEA is going to move," Liu, a journal ist in Beijing told her husband, Deng Jun. "The old store at Madian will close on the 10th this month." Deng, not so excited about the news, replied, "It is going to move away from us, and then it will not be so convenient for us to visit the store."
Much of the furniture in the young couple's apartment was purchased from IKEA. Like many young people who favor IKEA, they would visit the store whenever they needed furniture or small household adornments. But the store moved away on April 12,2006.
Ian Duffy, CEO of IKEA Asia Pacific, said that since IKEA entered China seven years ago, the company's China sales realized an annual increase of 30 to 40 percent. For IKEA, China has become one of its fastest growing markets in the world. Located in Wangjing, the largest residential quarter of Beijing, with a population of 300,000, IKEA's new store spans three times the floor space as the former unit. Ian Duffy said that IKEA's prospects in China look strong. He revealed that in the next six years IKEA would enter 10 more cities in China, and the number of sales venues would increase to 10.
Some 10 years ago the first Yaohan store opened in Pudong, Shanghai. Since then foreign retail stores have assertively expanded into the Chinese market. Foreign retail giants, such as Carrefour, Wal-mart, Auchan, Metro and Lotus, have become household names in China. The more important fact is that they all have enjoyed good economic performance in the Chinese market.
Paris-based French retail giant Carrefour was among the first foreign retailers to come to China. The World Top 500 company opened 46 supermarkets in 23 Chinese cities during its ten-year expansion in China. The retailer plans to open 150 additional units in coming years.
Another giant, Wal-mart, also listed as a World Top 500 company, successfully opened its first shopping plaza and membership store in Shenzhen in south China in 1996. Since then it has opened a total of 43 supermarkets in Beijing, Dalian, Jinan, Kunming and other 13 Chinese cities. Plans are to increase the number to 100 in the next few years.
The retail outlets of other well-known overseas brand names such as Auchan, Lotus, B & Q, Metro and others can be seen throughout China.
Thanks to sound economic development in China, the retail trade in China as a whole has enjoyed strong performance. Statistics from the China General Merchandise Association reveal that the nation realized a gross sales of 252.33 billion yuan in 2004, a 17.7 percent increase over the previous year; and in the same year, the gross sum of retail reached 199.25 billion yuan, a 16.9 percent increase. The figures indicate that the profit-making mode of China retail enterprises still works, and operational effectiveness and ability to profit have experienced a moderate increase.
According to economic forecasts, retail trade in China will experience an annual increase of 8 to 10 percent during the period from 2005 to 2010. Perhaps, to foreign as well as local retail enterprises, multilayer cooperation on the basis of ordered competition will bring about a win-win result for both, and will thus promote a sound and ordered expansion in China's retail segment.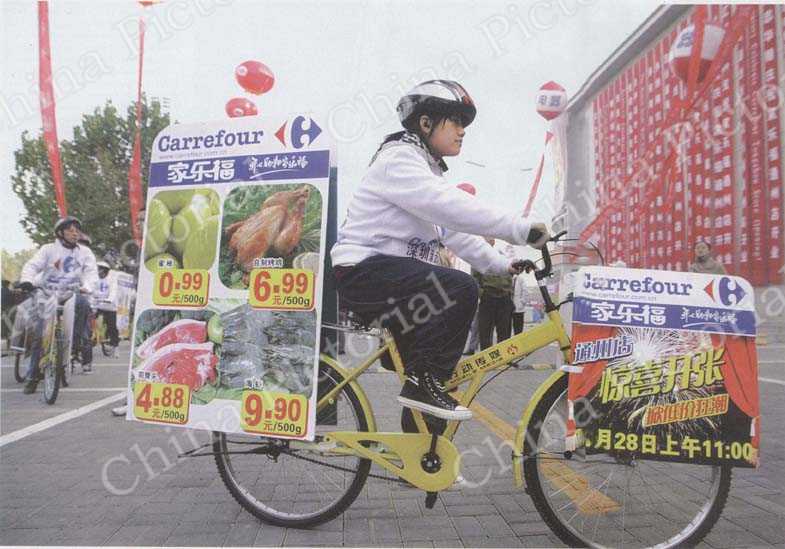 Staff prepare to hit the streets on their bicycles to advertise the French retail giant Carrefour's Tongzhou store in Beijing on October 28, 2006. Carrefour currently operates 77 supermarkets in China, and plans to open another 12 in 2006.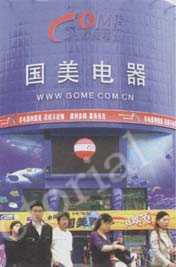 The Xinjiekou Outlet of Gome Electrical Appliances in Nanjing. by Dong Jinlin/CFP