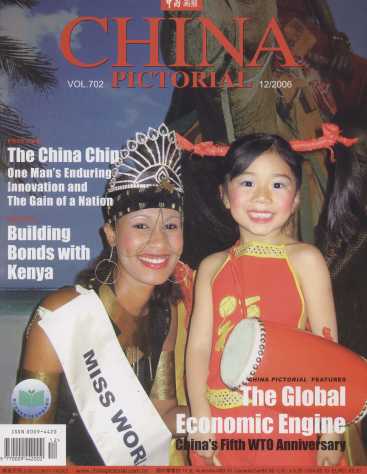 Directory Of Year 2006, Issue 12
The China Chip
Year:

2006

Issue

:12
Column:

PROFILES
Author:

Ye Zi
Release Date:

2006-12-01
Page:

20-23
Full Text: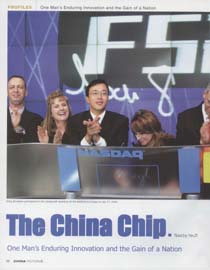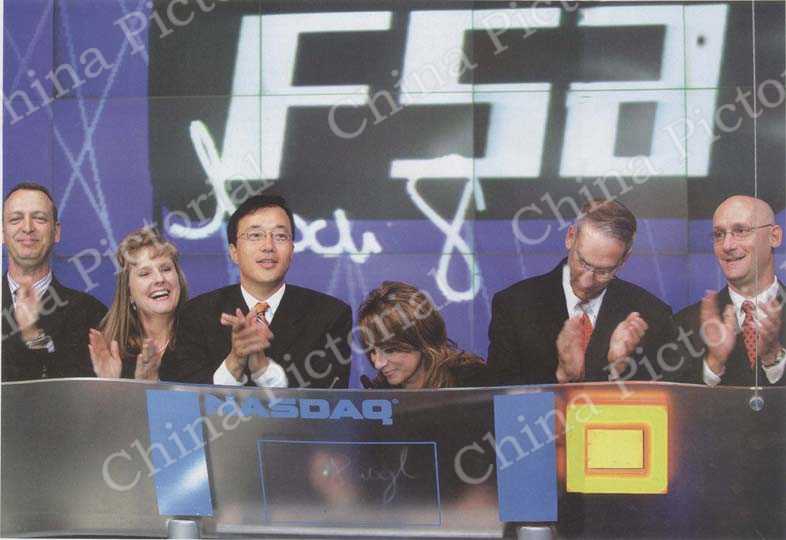 Deng Zhonghan particpated in the closing bell ceremony at the NASDAQ Exchange on July 27, 2006.
Just six years ago, China produced no multimedia digital chips. Today, the "Starlight China Chip," developed by Beijing-based chip manufacturer Vimicro Corporation, holding full intellectual property rights, ranks number one in the global market. The founder and CEO of Vimicro is 38-year-old Dr. Deng Zhonghan.
Born in Jiangsu Province in 1968, Deng Zhonghan entered the University of Science and Technology of China in 1987. He later obtained his Ph.D. in electrical engineering, as well as master's degrees in economics and physics, from the University of California at Berkeley. In 1997, he founded the Silicon Valley-based microchip maker Pixim, Inc., and served as chairman of the board.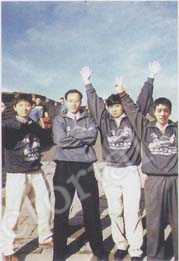 The four founders of Vimicro at the Great Wall on October 1, 1999, a time of beginning.
"While studying at Berkeley I also worked at IBM. Wherever I was, I always tried to give one-hundred percent," says Deng. As a senior research fellow at IBM, Deng's specialty was CMOS GSI (Grand Scale Integration). While there he was awarded several patents and won an IBM Invention Award.
Rebuke to Recognition
In 1999, Deng Zhonghan returned to China and co-founded Vimicro. He headed up the "Starlight China Chip Project," leading his team in the research, development and industrialization of the Starlight series multimedia digital chip. Chip design is one of the core technologies used for mobile phones, digital cameras and high definition television (HDTV).
Within a small storehouse in "China's Silicon Valley," the Zhongguancun area of Beijing, Deng and three associates founded Vimicro. A portion of the startup's venture capital was supplied by the Ministry of Information Industry, which in 1999 began an incubation program to provide seed money to IT operations in China. The balance of the financing came from the founders.
A Silicon Valley-style chip innovator, Vimicro started off lean and mean. To save money, the offices were not heated. One of the founders, Zhang Hui, who now serves as vice chairman, recalls that he often worked with his hands chapped by the cold. Conversely, prior to returning to China, Pixim, founded by Deng in Silicon Valley, was facing a bright future, with its market value exceeding US$150 million. In speaking to his giving up on what could have been an easy future, Deng says, "The ultimate goal of my studies abroad was to learn and return to China."
In March 2001, Vimicro completed development of the Starlight I chip, and consumer electronics giant Philips became one of the firm's customers.
Discussing the history of their undertaking, Deng speaks with passion. "At the beginning, it was really tough. In 2001, three of our founders went to promote the sale of our chips in Japan. At Sony a manager interrupted our introduction and said, 'We, Sony, are the originator of this field. If you want to learn something, go to our exhibitions and look at our products. I'm sorry, I still have a meceting. I'm busy.' The appointment was set to last one hour, but the manager left us after five minutes."
Deng Zhonghan embodies the new generation of Chinese innovators.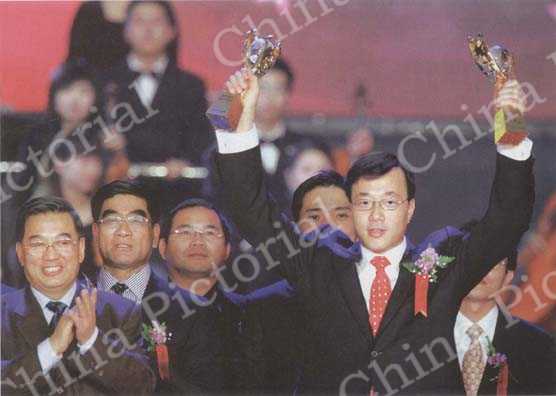 Deng Zhonghan wins the 2005 China Top Ten Science and Technology Persons Award. CFP
In 2005, Deng finally realized his dream. Starlight China Chip was adopted by Sony for use in some of their laptop models. "Eventually leading the originator, we finally staked out a place for ourselves. This story is now a spiritual treasure at Vimicro. It still inspires us."
Now Number One
In recent years, Starlight China Chip has recorded successive breakthroughs in the field of core technology. The chip is commonly chosen by top international firms like Samsung, Philips, HP, and Lenovo. It is in demand in 16 countries and regions, including the United States, Japan, South Korea and some European markets. Starlight accounts for 60 percent of the market share of computer image input chips-the world's leader.
Today Vimicro runs joint laboratories with Tsinghua University and Microsoft. Meanwhile, the firm has established strategic cooperations with Samsung, Philips, HP and many other companies. Thus Vimicro has developed a distribution network throughout the world, and 75 percent of company revenues are derived from the international market.
The "China Chip Project" also won first prize in the National Science and Technology Advancement Awards, sponsored by the State Council, with the award personally given to Deng by Chinese President Hu Jintao in March 2005. Last year, on November 15, Vimicro was listed on the US NASDAQ Stock Exchange, and soon after Premier Wen Jiabao directed that further development of the "Starlight China Chip" project should be carried out, while persevering in independent invention.
According to an officer with the Ministry of Information Industry, the Starlight multimedia chip promotes not only China's status in the field of core technology, but also furthers the development of related industries.
Now a visiting professor at Tsinghua University and a member of the Standing Committee of the Chinese Association of Science and Technology, Deng also serves as a jury expert of the National 863 Project.
According to Deng, currently all "China Chips" manufactured are the intellectual property of China.