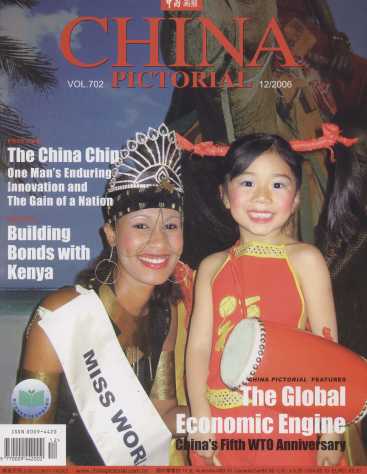 Directory Of Year 2006, Issue 12
From Harvard to Hinterland
Year:

2006

Issue

:12
Column:

PROFILES
Author:

Wang Yongqiang and Yao Nian
Release Date:

2006-12-01
Page:

24-27
Full Text: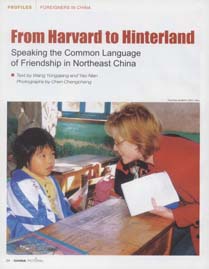 Photographs by Chen Chengcheng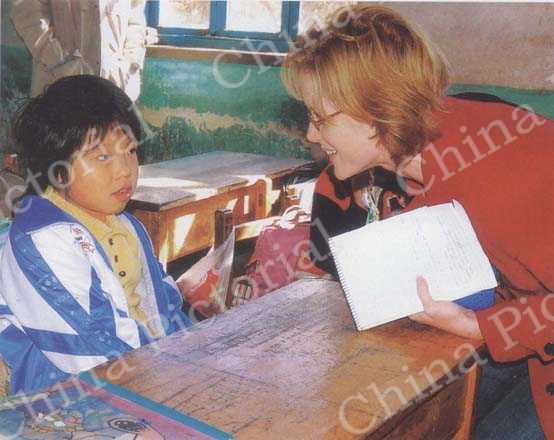 Tutoring students after class.
In early 2006 a young American woman with a ready and perfect smile, Shannon May, came to Huangbaiyu, in China's northeast Liaoning Province. A Harvard graduate, now studying for her doctoral degree at the University of California, she became an English teacher at a local primary school in the small mountain village.
Before Shannon showed up on the scene, most of her students struggled with English, lagging behind other area schools. Now the average overall English score at the school ranks second in the township.
She lives in a rented farmhouse, and has adapted to the local food that previously may have been too salty or too spicy for her. When there is a wedding or funeral in the village, like the native villagers she would pay her respect with a gift, usually money.
In addition to serving as an English teacher, Shannon is fulfilling an assignment issued by a US IT firm, Intel, to conduct research into rural development in China. The Sustainable Development Demonstration Village, a joint project of the China-US Center for Sustainable Development and the Municipal Government of Benxi, is underway in the village. In fact, Shannon volunteers her time to teach the kids English free of charge.
Shannon teaches in a humble classroom, of which the exterior wall surfacing sometimes sheaves off. In winter when this happened she and her students used thick folded paper to fill the gaps between the glass and window frames.
Benefiting from Shannon's teaching, 12-year-old Wang Shicheng scored 80 of a possible 100 on his English examination, where previously he might have only scored about 30. Shannon's graduate thesis at Harvard was on rural education. She has said to her colleagues that the countryside would decide the fate of China, and education would decide the fate of the countryside. During her stay, an important objective was to try to help her students comprehend abstract concepts, which in days past would have been difficult for them to grasp.
Student Wang Shicheng says that when Shannon teaches a word, for example, "basin," she will hold up the object and point to it when pronouncing the word. So he is quick to correctly recall the word. Wang says if he is required to write a composition on her, he will say Shannon is a beautiful aunt, and the two wardrobes she wears in the winter-one gray, one black-are beautiful, too. "Shannon is our friend," Wang says, "and she plays games with us. Once we had a snowball fight, and the number of boys was less than the girls, so Shannon joined with us. We defeated the girls in the end."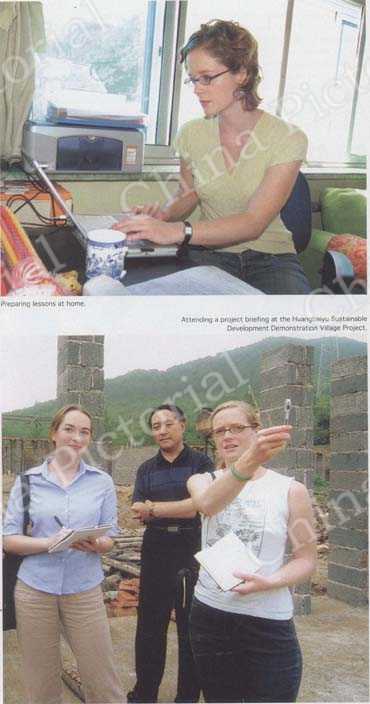 Shannon cooks for herself and is often seen with blades of grass in hair. She lives in a rented farmhouse, and there her books account for most of her belongings. In addition to English books, she also keeps some Chinese volumes, such as the Chinese Cookbook and How to Prepare Chinese Dishes. She keeps few cosmetics, only very simple and common lotions. Though still trying to adapt to Chinese cuisine, she says she relishes in the tasting of new dishes.
Villagers say that Shannon is welcome at every wedding without invitation and, according to Chinese tradition, she presents her share of money as a congratulation gift to the newly weds. She would take photos of the newly weds, and at her own expense had those developed and sent to the couples. Sometimes she would take the stage and serve as hostess. At first, the locals were awed by her, but as time went by they came to love her.
Shannon likes to pose for photos with others. Each time she encountered those who would back away because of their shabby clothes or shyness, she would ask them to remain with her as a part of the group photo. She said that people she had met in the village were very kind-perhaps the kindest she had encountered in China.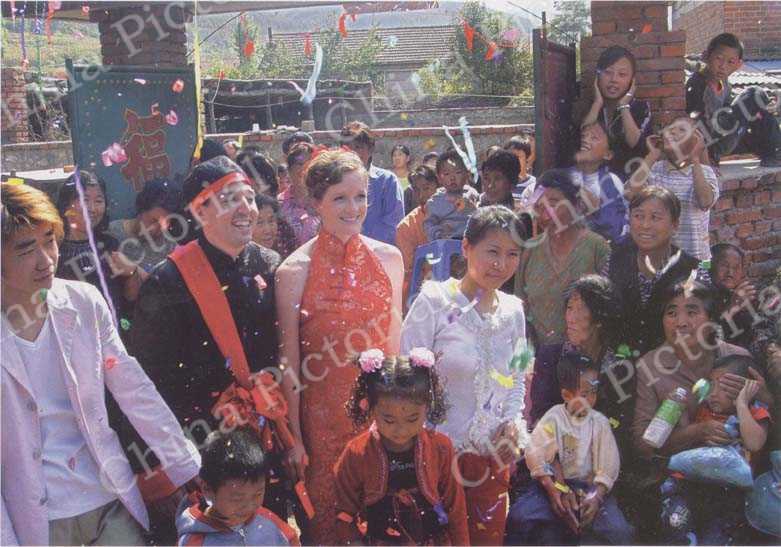 Autumn 2006: Shannon and Zhe celebrate their wedding in the small mountain village of Huangbaiyu.
Shannon will end her mission near the end of 2006. When interviewed by this reporter, she had already begun to pack her luggage. But before she left that small mountain village in northeast China, she married her boyfriend, Zhe, in a traditional Chinese wedding ceremony.
In her farewell letter, Shannon fondly wrote of the friends she had made and the experiences she had enjoyed. "From you I have learned to make dumplings, heat kang (brick bed), gather wild vegetables, farm and drink," she wrote to her village friends. "These and my experience as an English teacher in the village will be a highlight of my life. To share my wedding is to celebrate the one year we shared together."
She has promised to provide a total of 37,500 yuan in giants for middle school graduates in the village. The program will begin next year and will continue five years. Each year a selected middle school graduate in the village will receive an annual grant of 2,500 yuan for three years, so that he or she can continue their high school education.