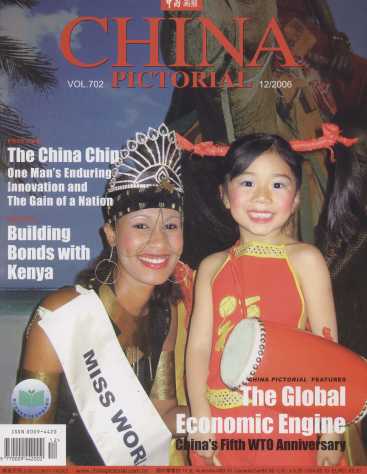 Directory Of Year 2006, Issue 12
The Mortgage As Master
Year:

2006

Issue

:12
Column:

SOCIETY
Author:

Wang Shuo
Release Date:

2006-12-01
Page:

28-31
Full Text: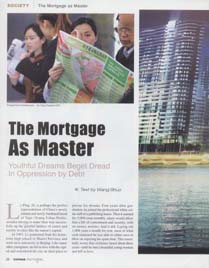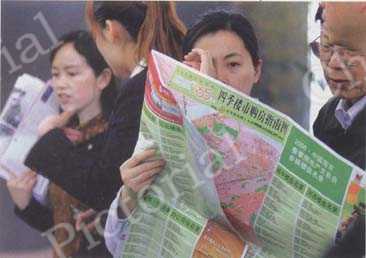 Prospective homebuyers. by Yang Duoduo/CFP
Li Ping, 28, is perhaps the perfect representation of China's newly minted and newly burdened breed of Yups (Young Urban Professionals) striving to make their way successfully up the parallel ladders of career and society in cities like the nation's capital.
In 1997, Li graduated from his hometown high school in Shanxi Province and went on to university in Beijing. Like many other youngsters, he fell in love with the capital and considered the city an ideal place to pursue his dreams. Four years after graduation, he joined the professional white collar staff of a publishing house. Then it seemed his 5,000-yuan monthly salary would allow him a life of contentment and security, with no money worries. And it did. Laying out 1,000 yuan a month for rent, most of what cash remained he was able to either save or blow on enjoying his spare time. This essentially worry-free existence lasted about three years-until he met a beautiful young woman and fell in love.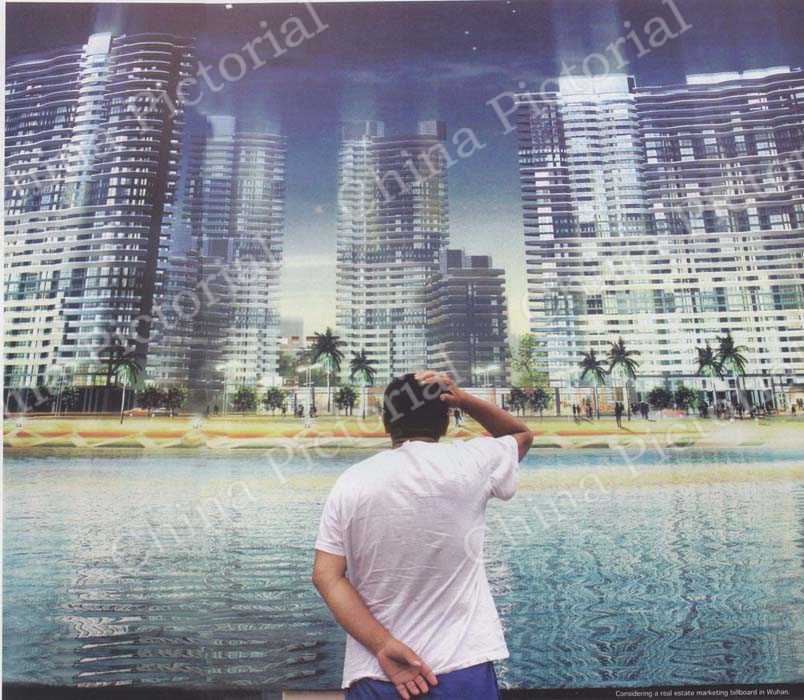 After a year of dating they decided to marry. And it was at that moment of decision that Li Ping began to worry. It is the traditional Chinese way: A new marriage calls for a new home. After discussing the matter with his parents, Li decided to resolve the issue of housing before the planning of a wedding. So in January 2005 he started down the arduous path to home ownership.
Fortunately, parents on both sides of the pending marriage supported the couple with a collective total of 500,000 yuan, which was added to Li's own savings of 70,000 yuan. But after a few weeks of looking into the seemingly countless housing projects across Beijing, he was disheartened to discover that what he thought a considerable sum was far from enough to purchase the sort of home he and his bride desired.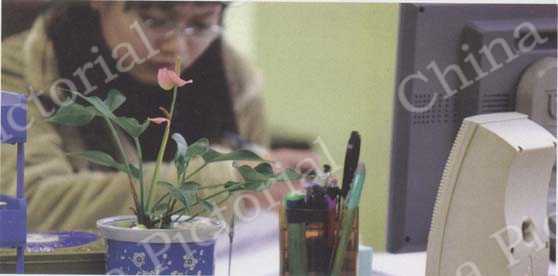 Young homeowners work to satisfy their mortgage. by Wu Luming/CFP
Considering Beijing's traffic conditions, Li hoped to buy a home close to his downtown office; and since the parents of both couples did not live in Beijing and would later relocate to the city to be with their children, the couple needed a large house. However, the average price for places they liked ran about 10,000 yuan per square meter. After six months of fruitless house-hunting Li was at wit's end, so the couple decided to buy a more expensive home with the aid of a bank-supplied mortgage. After much hand wringing and deliberation, they settled on a 135-square-meter condominium for 1.07 million yuan, supplemented by a loan of 500,000 yuan to be paid back in 20 years at 3,500 yuan a month.
On September 7, 2005, Li Ping signed the purchase contract, and so began the two-decade-long process of mortgage repayment.
In Beijing alone, in the first 11 months of 2005, some 254,000 homes were purchased, 10 percent fewer than during the same period of 2004. This drop was attributed to the rise in interest rates and the institution of the macro-control policy.
Of the ever-increasing number of home buyers, many find themselves in the same position as Li Ping. They possess a certain financial capability, but an overlarge proportion of their income goes to satisfy their mortgage obligation. Some in the media have taken to referring to this particular financially-burdened segment of society as "Loan Laborers" (as in their hours at work go primarily to satisfy the demands of their mortgage).
Cause and Effect
Recently compiled demographic numbers reveal that in China the so-called "loan labor" segment now numbers about 20 million. Besides the humble financial status of these young adults, the cause of their situation is also largely attributed to high housing prices, which are directly or indirectly set by real estate developers, banks, and speculators.
But there are alternatives; upscale homes are not the only option for those on the hunt for housing. Inexpensive apartments are plentiful and the pre-owned market is booming. Housing developers do not push people to sign the purchase contract, and banks do not drive anybody into a mortgage loan. Unfortunately, when given the option of accepting a moderate house at an affordable price or an extravagant place at a high cost, those destined to become loan laborers choose the latter.
Many who make this choice share some common characteristics. They are young, with fairly high incomes, a higher-than-av-erage level of expense, and a certain sense of vanity. Their tastes and pursuit of a quality lifestyle exceeds the capacity of their salary. So their consuming eyes drift to top-grade condominiums and garden villas. Neglecting the Chinese traditional philosophy of "acting according to one's capability," they tend to unrealistically compare themselves to others and follow their sense of vanity, rather than common sense. Unfortunately, in the course of pursuing their desire for expensive homes and cars, some in this younger generation-many of whom are the product of doting parents-often draft their entire finally into the loan labor ranks.
The Limited Lifestyle
According to many such loan laborers, their lifestyles can be delineated to "before" and "after" the purchase of a home.
After executing the contract with the housing developer, Li Ping began to otherwise live in a more economical way. He would take the subway and forgo the taxi; when practical he would take the bus and forgo the subway; and when walking was possible, he would forgo the bus. Excepting special circumstances, he would eat his meals at home. And when dining out, he would eat only fast food. He neither accepted dinner invitations nor invited others for meals. Today all his home illumination is produced by energy-saving lights and the brightness of his computer screen is adjusted to the dimmest setting. But despite all these economic precautions, his previous optimism has been replaced by "depression, worry, and perplexity," Li says.
According to a survey of mortgage holders, less than 30 percent said they were happier after the loan-dependent purchase of their home, while the large majority felt a sense of "ever-increasing burden," and many simply regretted their decision.
After graduating from university in 2003, Zhang Li landed a job as a journalist, earning 4,000 yuan a month. In April 2005, she bought a home of her own, but the monthly mortgage payment consumes about three-fourths of her salary. "In the first several months, I could hardly adapt to this," Zhang says. "On the 20th of every month, I had to take a thick envelope of money to the bank, and what remained was so little. This sometimes led me into debt. After purchasing that house, I desperately tried to contribute more articles, and gradually I developed chronic anxiety."
Like Zhang Li, many other loan laborers are afflicted with mental stress, and a recent survey reveals that most of those with home mortgages are worried to varying degrees. More than 30 percent of mortgage holders have become slaves to that loan. They don't travel or enjoy even marginal-priced recreational excursion; they live in dread of an interest rate hike, sickness, and unemployment.
A Frugal Future
Due to being burdened by bank loans, many Yups who previously enjoyed a relatively content lifestyle have become cash poor. The large majority of these people are about 30 years of age, well-educated, and striving to advance their careers and lifestyle in large cities. It is their education, competence, and ambition that will create their future. But for a comparably large house, they in effect became the offsite laborers of banks and land developers, and what awaits them is a lowering quality of life and increasing stress. And that's not all. As these young people struggle down the long road of loan repayment while trying to allocate capital to the needs of life, they must still plan on satisfying the obligation of supporting aging parents.
To prepare for the further advancement of his career, Li Ping took a part-time postgraduate program. The work-to-school lifestyle exhausted him, but due to his mortgage obligations, he could not cut back on hours at his relatively well-paid job to devote more attention to school.
"Finally, you find that you spend all your life struggling simply for a house," said Zhang Li. "All your ideals and pursuits are sacrificed, and what we can contribute to our aging parents will be much less."