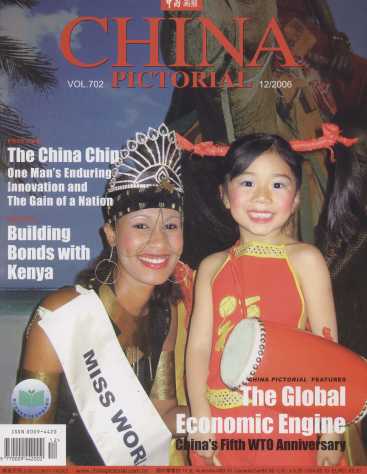 Directory Of Year 2006, Issue 12
The Cause of Comedy
Year:

2006

Issue

:12
Column:

CULTURE
Author:

Zhang Rong
Release Date:

2006-12-01
Page:

70-73
Full Text: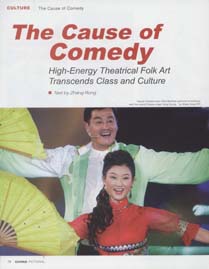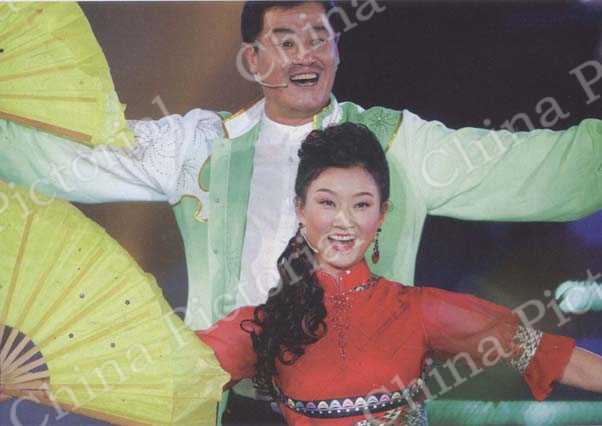 Popular Chinese actor Zhao Benshan performs errenzhuan with the noted Chinese singer Song Zuying. by Wang Jiang/CFP
Enacted upon makeshift stages assembled in village squares, performed within expansive urban theaters, and honored within the Great Hall of the People in the nation's capital, errenzhuan, the two-character style of song, dance and comic spoken word that originated in Northeast China is now a highly popular form of theatrical art across the country. Taking this art form beyond China's borders, the well known Chinese actor Zhao Benshan, a major promoter of errenzhuan, in October of 2006 announced that from February 21 to March 6, 2007, his troop would tour North America, hitting cities like New York, Los Angeles, San Francisco, Chicago, Atlanta and Vancouver. And they hope to take the stage at the Academy Awards.
For the citizens of Northeast China, there is no more familiar theatrical art form than errenzhuan. Errenzhuan, also known as bengbeng, originated in the northeastern provinces of Liaoning, Jilin and Heilong-jiang, and the form remains a mainstay entertainment in the region, especially in rural areas. Errenzhuan is a vigorous form of performance art, typically embodied by a singing and dancing duo. Three primary presentations typically include, a male actor playing the clown and a female, in a standard role known as the dan, singing and dancing in an interjecting style. A singing and dancing solo performer is known as the danchutou, while that of an actor assuming various roles and singing is the lachangxi. Besides the three elements of song, dance and high-energy onstage dialogues, many practitioners of errenzhuan are experts in flourishing such devices as the handkerchief and fan.
A Theatrical Evolution
Errenzhuan dates back about 300 years, and records of the art began to be noted in 1822, the second year of the reign of Emperor Daoguang of the Qing Dynasty, when the dramatic art of bengbeng first appeared at a temple fair in Huaide County, Jilin Province. In the early days, there were no women bengbeng performers; female characters were portrayed by male actors. It was after the founding of the People's Republic in 1949 that the name errenzhuan came into use. Since the reform and opening up, errenzhuan has developed further in many aspects. Dulcimer, lute, percussion instruments, gong and cymbal were added as accompanying instruments. More recently added theatrical devices include flowery umbrellas, scarves and long silks. In recent decades, stage costumes improved and were customized in accordance with characterizations, stage lighting came into play to better project a certain develop ambience, and overall production values were greatly advanced.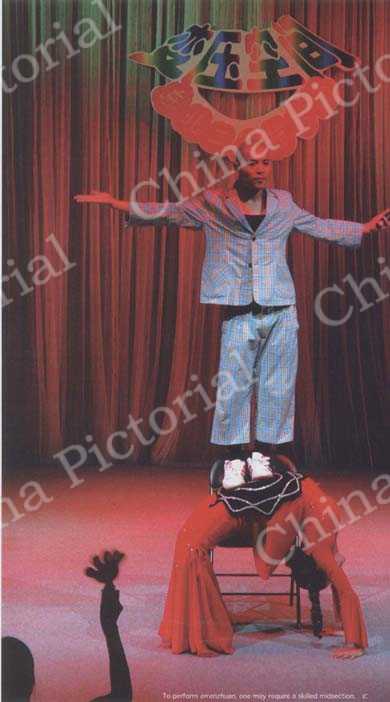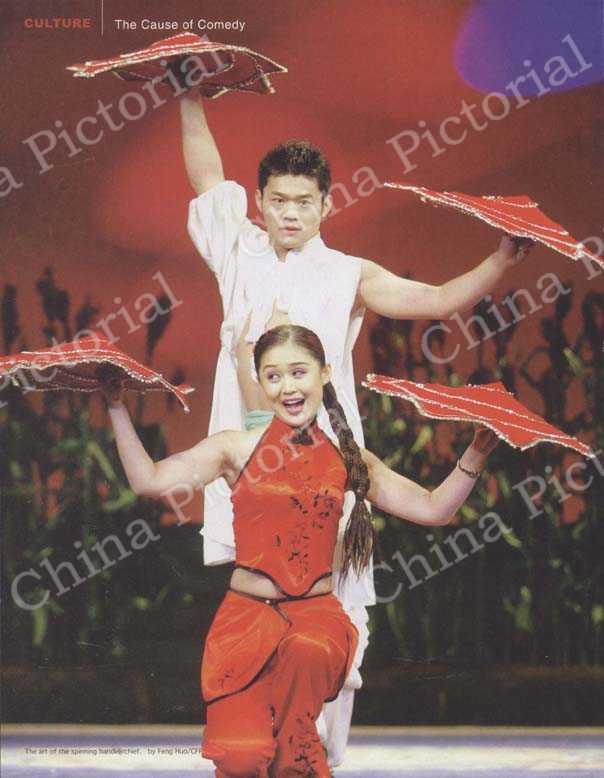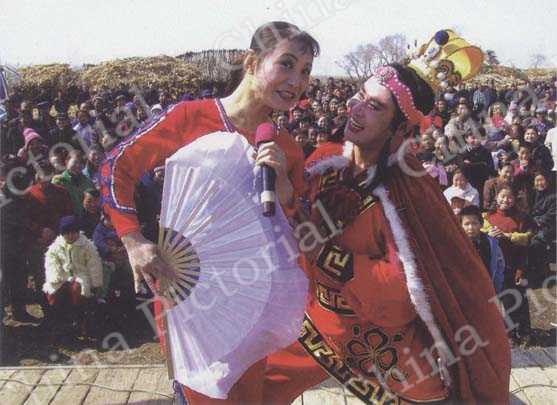 Errenzhuan is especially popular in rural areas. CFP
Errenzhuan typically features nine vocal techniques and 18 melodies, and over time various vocal art forms of northeastern China came together as a single stage show, including yangko (dance). There is a local folk saying that declares most would rather take in an errenzhuan performance than enjoy a meal.
Perpetuating Performance
Errenzhuan is considered to be an incarnation of the working people's aspiration for artistic beauty. However, it was only in the last decade that errenzhuan became popular throughout the rest of the nation. According to artist Wen Zhanlin, in Cangtu County of Tieling City, Liaoning Province, considered the cradle of erenzhuan, there were more than 200 errenzhuan folk performers before liberation.
To further develop and support the true form of errenzhuan, proponents of the local arts are devoted to memorializing the history and theory of errenzhuan. An ongoing comprehensive effort includes developing scripts, compiling written and audio-visual archives, and establishing training bases and research institutions. Over the past years, errenzhuan competitions were held to encourage exchange and cooperation among performers, and outstanding actors continue to emerge. In Zhao Benshan's words, "The greatest contribution of errenzhuan is the happiness the art brings to average people. This is the most important thing."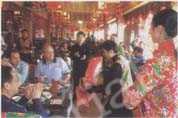 Errenzhuan actors perform for a foreign audience in Shanghai. by Liu Bingsheng/CFP