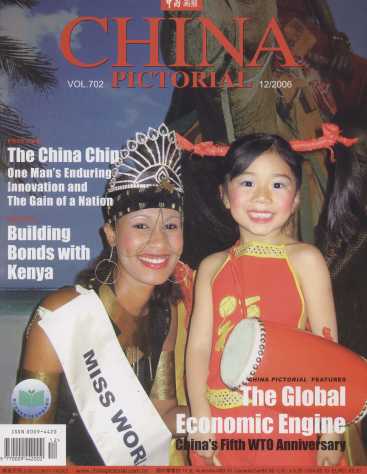 Directory Of Year 2006, Issue 12
Touching Hearts and Spirit
Year:

2006

Issue

:12
Column:

SERIES
Author:

Zhao Yue
Release Date:

2006-12-01
Page:

54-57
Full Text: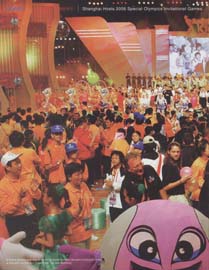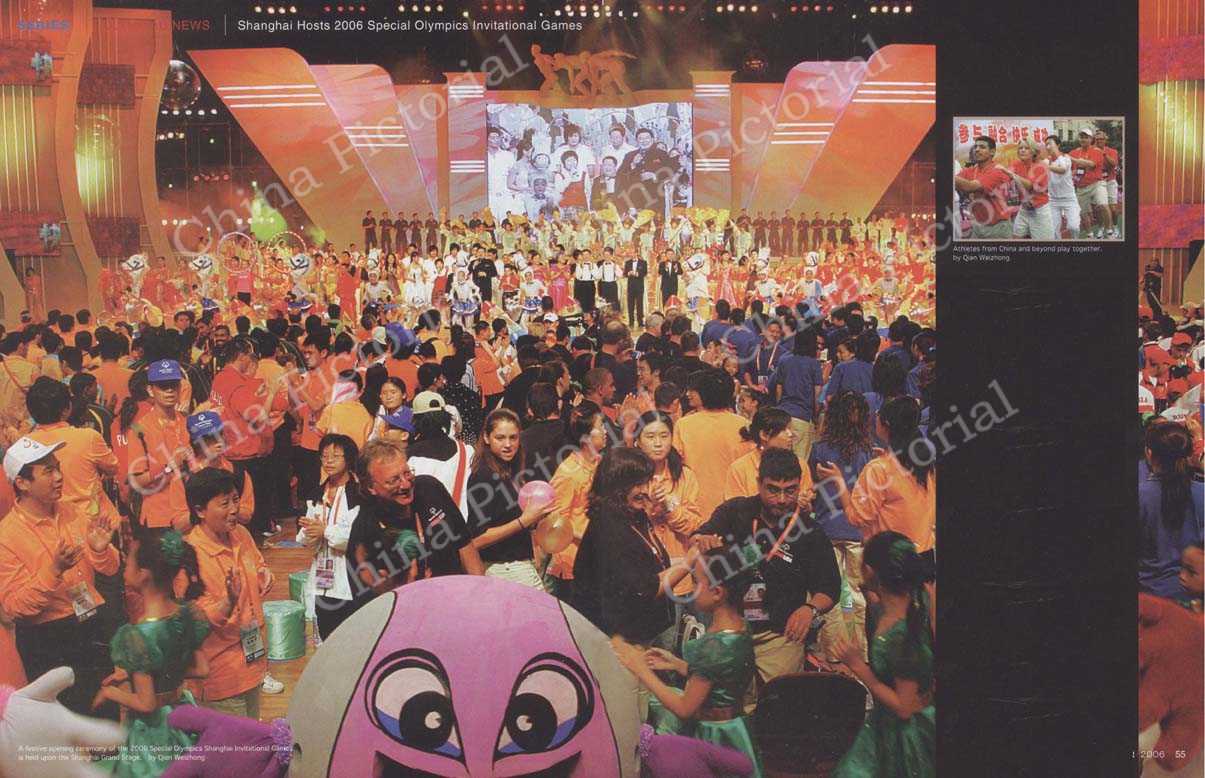 The 2007 Special Olympics World Summer Games, the largest Special Olympics yet and the first to be held in Asia, will take place in Shanghai from October 2 to October 11. In a sort of trial run rehearsal, in October 2006, Shanghai hosted the 2006 Special Olympics Shanghai Invitational Games.
In 1968, Eunice Kennedy Shriver, sister of the late US President John F. Kennedy, first established the Special Olympics, an international organization dedicated to encouraging individuals with intellectual disabilities to participate in sports. Different from the participants of Olympic Games and Para-lympic Games, athletes of the Special Olympics are mentally-disadvantaged, with an estimated intellectual functioning level (IQ) below 70. Thus, rather than strict competition, the Games focus more on participation and sharing.
The Shanghai Scene
The first day this reporter arrived in Shanghai to cover this event, she witnessed the Host Town Program in Caoyang of Putuo District. The Host Town Program is a unique element of the Special Olympic Games. Before the opening of the Games, usually three or four days in advance, communities and families throughout the host city open their homes to receive participants of the Special Olympics, enabling a better understanding between athletes, local residents and the host city.
In the accompaniment of Shanghai volunteers, the US delegation visited the Beluga House and Underwater World in Changfeng Park. Observing the tropical fish swimming around them and the performance of the Little Mermaid, many athletes seemed unable to tear themselves away. Departing Changfeng Park, the athletes visited commercial streets for sight-seeing and shopping, and were dazzled by the endless array of colorful commodities and the bustling streets.
In the evening, groups from organizations and volunteers in Caoyang offered their American guests a reception party billed as "Sunshine, Integration, and Joy." Dressed in gorgeous cheongsams and led by their lead singer, 86-year-old Zhao Aiying, the Old Grandma Choir of Caoyang first sang a cheerful Chinese song. Then the choir announced, "Now we are going to present you an English song." The guests were greatly surprised and the hall fell into silence. Hearing the melody, the US delegation could not help but dance to the rhythms. Zhao told this reporter that to prepare this English song, this choir, with their members of average age above 60, devoted two weeks to practice.
"We Are Friends"
"Run...run..." There air was full of clapping and loud talking in Shanghai's Luwan Sports Stadium, for there the Shanghai Special Olympic basketball team was warming up. Li Xiangxin, the 24-year-old basketball coach, only began his training of people with intellectual disabilities this year. "Now our team has altogether 12 members. Although I am only in charge of this team for three months, I feel like a long-time friend with my team members," says Li. He explains that compared to ordinary people, athletes with intellectual disabilities can also be weaker in terms of physical ability, endurance, and comprehension. Thus, it takes more time and energy for coaches to provide instructions and analyze the basketball playing strategy.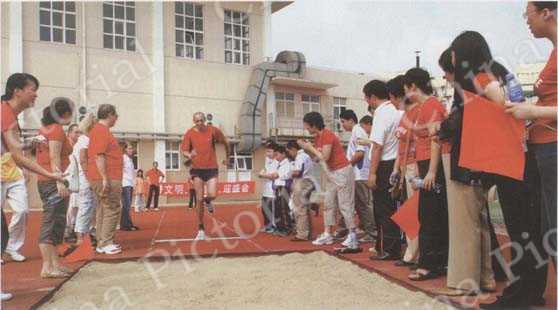 Going through the paces at a special education school in Pudong, Shanghai. by Tan Guanghua
Moreover, ways of communicating are of great importance in training these athletes. "Sometimes they will lose their tempers, get angry, and even quit the training when I criticize them on their work. At this time, we adopt different methods for different members," Li is quite experienced, "For some members with higher IQ, he may feel that the coach is unhappy, judging by my facial expressions and words. However, for some members at a lower IQ level, we also have to coax them to back to the field."
"They may be not as good as ordinary people in terms of intelligence, but they are absolutely no worse than anyone in respect of their aspiration for victory and their desire to be involved in sports," Li says. Li's 22-year-old team member Chen Ming says that although their training is tough, he would like to try his best. He also expresses his desire to become a basketball player like Yao Ming.
A Special Service Team
There is a special team comprised of people from all walks of life in Shanghai. Dressed in orange-colored T-shirts and wearing smiles while they work, they are the volunteers of the Special Olympics Shanghai Invitational Games.
"They (people of intellectual disabilities) are more like a group of kids that will never grow up. You really need to open your heart to make friends with them," says 21-year-old Zhu Yili, junior student of the German Language Department of Shanghai Industry and Commerce Foreign Language College, and one of the volunteers for receiving the Austria delegation.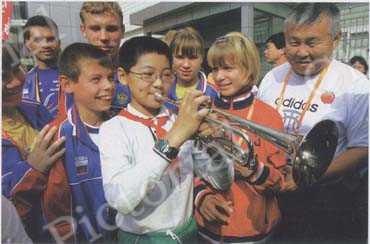 Trumpeting a welcome to the Russian delegation. by Qian Weizhong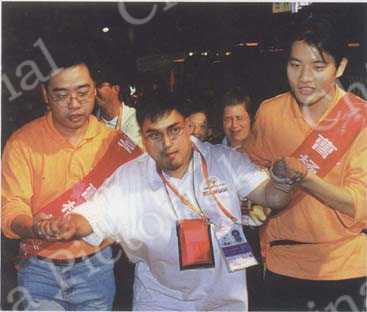 Assisting an athlete with walking difficulties. by Qian Weizhong
The task of Chen Lian, 22, at the invitational games is to accompany athletes from Changning District and Qixin School in Putuo District. "The strength used to push a wheel chair should be carefully adjusted, better to communicate with the athlete beforehand, and extra attention should be paid when turning a corner." Talking about her experience at the invitational games, Chen says that once she was assigned to escort an athlete suffering from brain paralysis. "Because of his illness, the athlete was very small. I always pushed his wheel chair to the even and smooth parts of the roads, for fear of making him feel uncomfortable."
Tang Hao, a major volunteer interpreter from Caoyang, Putuo District at the invitational games, was still a university student while working as a volunteer for the APEC event held in Shanghai. Learning that professional interpreters were needed for the US delegation, Tang feels that it is her duty to be part of the work. "A team member's cousin is about to marry in the United States, but because she is here in Shanghai for the event, she asked me to use a brush to write "happiness" in the Chinese character and mail it to her cousin in the US. I entrusted this task to one of my friends who is good at calligraphy and later gave the work to her. Seeing this, the team member was so happy that she hugged me for a long time. Although she doesn't say anything, her hug has sent me her thanks," says Tang. Tang's father was also an interpreter before he retired, and he asked to be a volunteer interpreter for the invitational games.